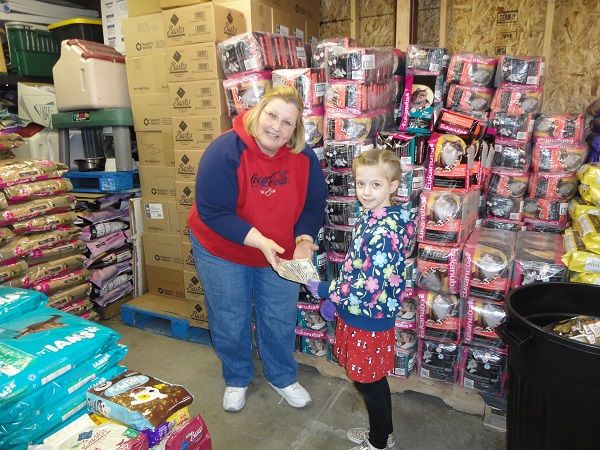 Ella Lounsbury had a birthday coming up and when she and her mom, Sarah, were planning her birthday party, Ella decided she wanted all of her gifts to be donations to help animals. She and her mom researched the animal groups in Lincoln and Ella wanted to help cats AND dogs, because she loves both of them. Ella asked all of her birthday guests to donate cash to the Lincoln Animal Ambassadors. When all was said and done, Ella and her mom had collectively donated $260 to the Lincoln Animal Ambassadors.
Ella, her little brother and her mom, Sarah came down to help with pet food distributions one evening in early April to donate the cash. Since LAA leases space from The Cat House, they also got a tour of The Cat House from one of the shelter volunteers and were able to meet some cats up for adoption.
Ella has a pet cat at home and hopes to adopt a dog someday. Lincoln Animal Ambassadors would like to thank Ella and Sarah for their thoughtful donation. We know that Ella will continue to do great things to help animals as she gets older and animals everywhere will benefit from her actions. Thank you Ella!